Russian separatists in Eastern Ukraine have maintained the cultural stereotype that Russians have a bad sense of humor by launching 65 attacks against Ukrainian forces on April 1st alone. The 31st of March brought 37 attacks, and on the 30th, Russian separatists launched 77 attacks along the east and south of their occupied lines.
In Donetsk, behind Russian separatist lines, a devil's symphony pierced the air and shook the earth beyond. The Russian separatists have continued to launch static harassment attacks aimed at Ukrainian positions at levels not seen in almost a year. Using weapons previously banned under the many re-negotiated Minsk agreements, they opened fire with small arms, 82mm and 120mm mortars, and then swiftly escalated to the use of anti-aircraft guns, recoilless rifles (SPG), Russian MLRS platforms, and self-propelled 152mm artillery. The attacks have now settled to normal levels of disruptive small arms and automatic grenade fire.
The attacks align with changes in Ukrainian foreign policy, a common occurrence when Moscow disagrees with something in Ukraine. Russia often authorizes their pawns in Donetsk to open a free-fire frenzy to express their opinion.
Yesterday, Ukrainian President Poroshenko met with world leaders in Washington D.C. at the World Nuclear Summit. In defiance of Russian policy, he met with U.S. President Barack Obama. From there, he invited Chinese President Xi Jinping to visit Ukraine. In a separate meeting, Poroshenko met with Vice President Joe Biden regarding assurances of a $1 billion U.S. loan to Ukraine and affirmed the investment via the U.S. secretary of commerce, offering an open invite to the Americans to visit Ukraine. Poroshenko also took advantage of the summit to open up visa-free travel with Poland, a step toward Ukraine joining the West and separating itself from Russian influence.
Russia is getting uncomfortable with Ukrainian defiance. The Russia position continues to crumble on the world stage as its boasting has revealed Russia to be nothing more than a hollow superpower. America is calling Russia's bluff with a significant show of force by way of direct, on-the-ground involvement with U.S. European partners in Operation Atlantic Resolve. This revival of Cold War-level joint-force exercises and the direct agitation of Moscow serve to reassure NATO allies—and most specifically, the newer allies from the former Soviet-Bloc—of American commitment to deterring Russian aggression. Most recently, 12 F-15Cs deployed to support the U.S. mission and will bound between Bulgaria, Estonia, and Romania over the next six months. They will join three fully equipped Army brigade combat teams and other division-level enablers as part of the European Reassurances Initiative.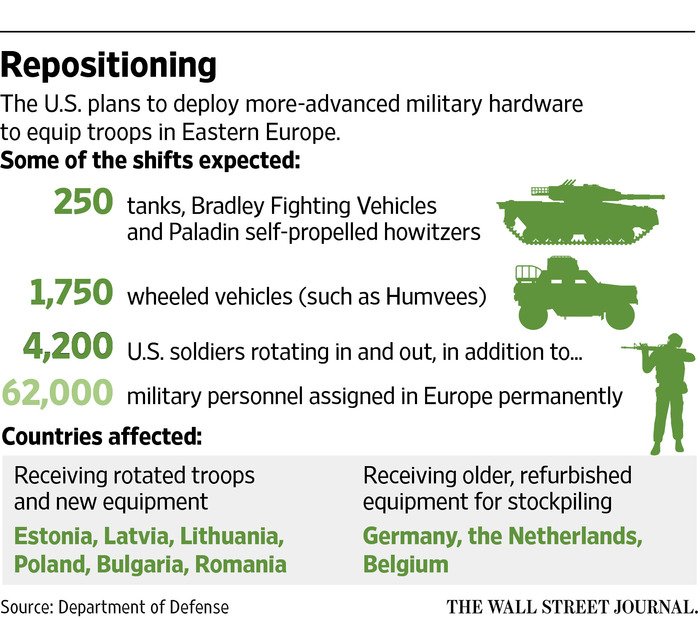 American initiative and real on-the-ground commitment are needed, as the Organization for Security and Cooperation in Europe (OSCE) are reporting to a deaf audience. The OSCE mission to Ukraine has been deployed to observe only; they are not serving as peacekeepers, but are present only to watch. They're powerless to even defend themselves. Even so, they remain on the ground, often reporting the escalation of violence by Russian separatists to the weak-willed consortium in the Europe Union.
Featured image: April 1st map, of the situation in eastern regions of Ukraine in Eastern Ukraine. Courtesy of the Ministry of Defense of Ukraine.