While several watch manufacturers have provided watches for the military, it is important to note that most of these watches were designed for durability and practicality in tough environments rather than luxury. However, some modern iterations of these watches are considered luxury because of their history, craftsmanship, and modern refinements.
Rolex – Rolex has a rich history with the military. The Rolex Submariner, for instance, was supplied to the British Royal Navy in the 1970s. In the US, Rolex's GMT Master was favored by aviators for its ability to tell multiple time zones simultaneously. The watches are not officially issued, but their reliability in demanding environments made them a popular choice.
(Photo: Navy SEAL, Brandon Webb wearing his Rolex Sub in Afghanistan in 2001 with SEAL Team 3. Guess that gun?)
Hamilton – Hamilton watches were widely used during World War II. The company halted its consumer production to focus on supplying the U.S. Armed Forces. The Hamilton Khaki Field watch, which harks back to this era, is a modern classic combining luxury and military heritage.
Breitling – Known for its aviation watches, Breitling's Navitimer was popular among pilots for its slide rule bezel used for navigation-related calculations. The brand's Aerospace model was also used by some military pilots. The iconic Navitimer is featured below.
Omega – Omega's history with the military began with the British Royal Flying Corps choosing Omega watches as their official timekeepers for combat units in 1917. The Omega Seamaster, favored for its durability and water resistance, has been popular with the U.S. military, especially Navy SEALs. Also a Bond favorite.
Bremont – Bremont is a British watchmaker known for its strong ties to the aviation community. The company often collaborates with military squadrons to create bespoke watches that carry the insignia and specific design elements pertinent to each unit. A significant example is their partnership with Martin-Baker, the British aviation company responsible for supplying 70% of the world's air forces with fighter ejection seat technology. Bremont worked closely with Martin-Baker to create the Bremont MB range, which underwent the same extensive testing schedule that Martin-Baker seats go through, resulting in highly durable and reliable timepieces.
Tudor – Tudor, a sister company to Rolex, also has a notable military history. In the 1960s and 1970s, the brand supplied the U.S. Navy's Underwater Demolition Teams (UDT) and SEAL teams with their Submariner models. These watches were renowned for their rugged durability and water resistance, making them ideal for such high-intensity operations.
(Photo: A Navy SEAL's Tudor Courtesy of Watches of Espionage)
RESCO Instruments – RESCO Instruments, a relatively new brand founded by a U.S. Navy SEAL, offers watches designed with direct input from active duty and former Special Operations personnel. This real-world field testing in military environments ensures the brand's watches stand up to the rigors of demanding operational environments. RESCO's BlackFrog model, for example, was worn by UDT/SEAL operators during combat deployments in Iraq and Afghanistan.
RESCO Instruments is a company founded by a Navy SEAL, R.E. Smith (RESCO), with the goal of producing tough, reliable watches that could stand up to the harshest environments.
One of the company's most popular and bestselling models is the RESCO Red Circle GMT.  The Red Circle GMT was initially designed with input from Navy SEAL sniper, Brandon Webb, named after his bestselling memoir, The Red Circle.
It was designed with Webb's input with a rugged build, an automatic, Swiss-made movement for reliable timekeeping, and a GMT complication that allows tracking of a second time zone – a necessary feature for globally deployed military units and everyday wear for civilians who push the extremes.
Panerai
Panerai holds a unique place in the world of military watches. The company got its start by supplying precision instruments to the Italian Navy in the early 20th century. In the 1930s and during World War II, Panerai provided the Italian frogmen commandos (and the Nazis!) with a series of notable dive watches, the Radiomir and the Luminor, built to withstand extreme conditions underwater.
These timepieces, featuring large cushion-shaped cases and distinctive bridge-protected crowns, were unique for their time, and their bold, legible design was a boon in the low visibility conditions under the sea. Panerai's proprietary luminescent paint, Radiomir, and later Luminor, was a key feature that allowed for better readability in the dark depths.
Panerai's military heritage still heavily influences its modern collections, with the Radiomir and Luminor lines continuing to be its flagship offerings. Their modern iterations are much-refined luxury timepieces, but they still proudly carry their rugged, utilitarian DNA. It's a favorite among US Special Ops units, and the company recently releases a limited edition Navy SEAL watch featured below.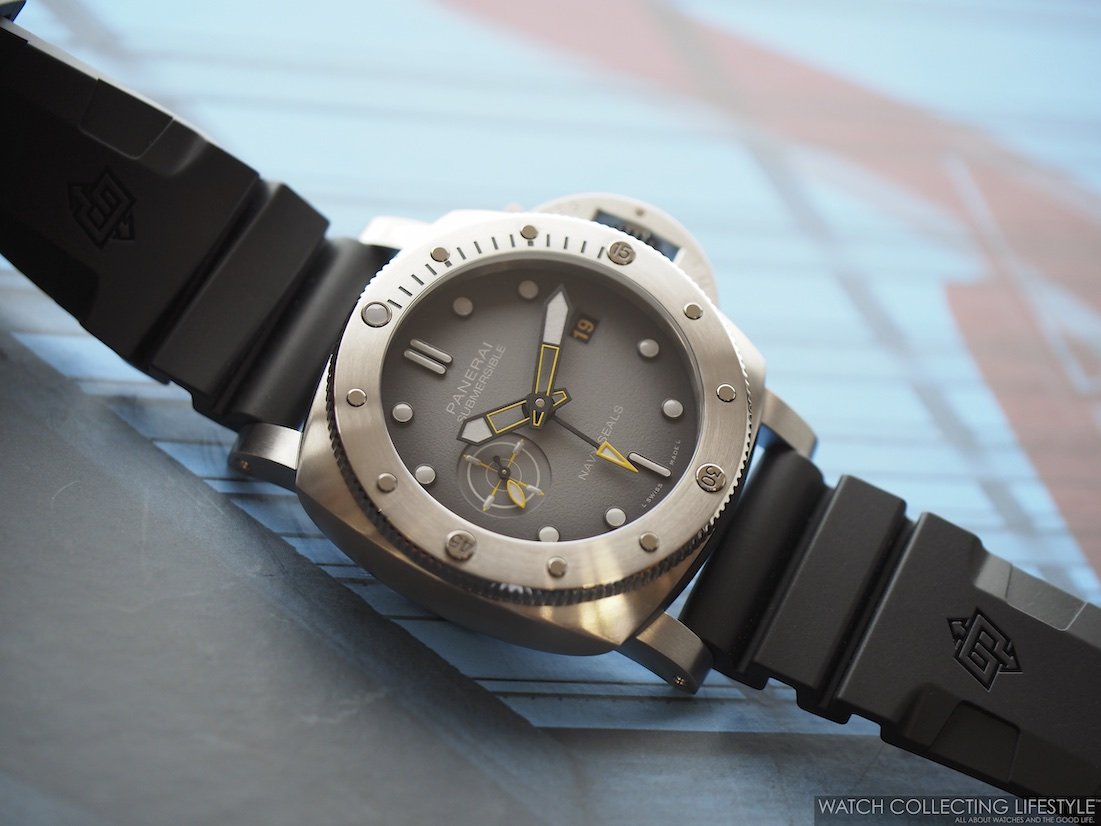 Tornek-Rayville is an interesting chapter in the history of military watches. This company has a relatively brief but significant association with the U.S. military.
In the 1960s, the U.S. Navy recognized the need for a robust, reliable dive watch. Rolex's Submariner was an excellent fit for the job, but federal regulations stipulated that military equipment must be American-made. To solve this issue, an American company, Tornek-Rayville, essentially replicated the Rolex Submariner under their own brand.
The Tornek-Rayville TR-900 was thus born and issued to U.S. Navy divers, including the elite UDT and Navy SEAL teams. The watch featured an anti-magnetic cover, an important feature for mine clearance divers. Only about 1,000 to 1,200 of these watches were made, and very few have survived to the present day, making them highly sought-after collector's items.
The company no longer exists, but the legacy of the Tornek-Rayville TR-900 remains as a testament to the critical role of watches in military operations.
G-Shock – While not a luxury brand, Casio's G-Shock line is well-respected in the military community for its durability, functionality, and affordability. The watches are tough, packed with features, and can withstand a lot of punishment, making them a popular choice among service members.
Regarding Luminox, they faced some controversy regarding their claim of being a supplier of watches to the Navy SEALs. "The navy scuttlebutt was that the contracting officer missed the fine print when the brand offered to send the navy free samples. The contract language allowed Luminox to claim they were an official supplier to the Navy SEALs; however, I never met a SEAL I served with that wore a Luminox, and most the guys looked down on them. We were issued the G-shock at SEAL TEAM 3, but the most popular luxury watches in my era of the Teams were Rolex Sea Dweller, GMT and Submariner models, Panerai, and the Omega Sea Master. "-Brandon Webb, former Navy SEAL, Watch Collector, and Editor of SOFREP
Summary
As we've navigated the intriguing world of military watches, one thing's clear: from the battle-hardened Rolex Submariner and the iconic Omega Seamaster to the gritty field pieces of Hamilton, these watches have been through the wringer and come out ticking. They've been with us in the harshest environments, providing us with a grip on time when everything else seemed unpredictable.
We've seen the luxury brands Rolex and Omega being used in the field not because of their flashy exteriors, but due to their robust engineering and reliable movements. Hamilton provided the classic field watches, their utilitarian functionality making them the trusty companions of soldiers in WWII.
Breitling and Bremont, the aviation wizards, graced the wrists of pilots and aviators with their innovative and practical features. The ties of Bremont to the aviation community through its Martin-Baker collaboration and the utility of the Breitling Navitimer and Aerospace models are the stuff of legend.
Tudor and Tornek-Rayville supplied some of the most demanding units – the UDT and Navy SEALs – with their Submariner models, embodying the rugged and relentless spirit of these warriors. And let's not forget the newcomer RESCO, founded by a SEAL, making watches that can withstand the grueling rigors of our work.
And then we have the controversies, Luminox's claims of being a SEAL's watch, stirring the pot in the watch world. The truth is, there's no one watch for all of us. Our choice of a watch is as personal as our choice of gear; it needs to fit us, our mission, and our environment.
As the hands of time move forward, the military's fascination with watches remains robust. The reliance on a reliable timepiece is a tradition passed down from old salts to the greenest frogmen. The pulse of this culture beats strong, echoing in the tick of these timepieces that have become an integral part of our DNA.
In the end, whether they are officially issued gear or personal acquisitions, these watches do more than just tell time; they tell a story, our story. Here's to the watches that have served alongside us, bearing witness to our trials, our triumphs, and our unwavering resolve. Time waits for no one, and neither do we.